19 December 2017
Every child deserves a chance at a better tomorrow. Our recent Staff Helping SA OUT project was in Winterveldt, North West of Tshwane, at Beleganang Children's Centre.
---
Beleganang Children's Centre
Beleganang Children's Centre is a registered NPO based in Winterveldt, North West of Tshwane. The NPO, partnering with a few of the local mother's, offers an after-care feeding scheme to the children in the community. They also offer remedial classes, assist with homework and liaise with parents/guardians of challenged and special needs children requiring professional attention.
For the past year, the centre has been operating from the chairperson's home, however the amenities and space haven't been adequate to accommodate the ever-increasing number of children.
The centre was nominated by an OUTsurance staff member who feels strongly about reaching out and creating positive impact in a child's life.
OUTsurance staff, as part of the Staff Helping SA OUT (SHSAO) team, were excited to participate and lend a helping hand where possible. They were able to sponsor a 6mx6m Wendy house, which serves as the space to help the children with their homework and other learning needs, fenced an area covering 1800m² with palisade, to provide a safe environment, installed a jungle gym for the children to enjoy, erected carport shade and supplied 100 chairs, plates, bowls and cups, to keep the feeding scheme going and growing.
The SHSAO team also ensured that a jojo tanks was placed on the premises, to provide readily available safe and clean water.
Before they left, the team provided the children with food and sweets as part of their Christmas gift.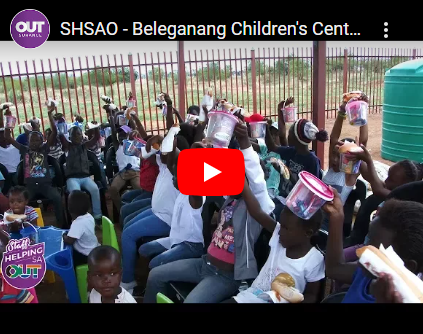 All of our Staff Helping SA OUT projects are nominated by OUTsurance staff. We require staff to get their hands dirty and do most of the physical work to keep the costs down as much as possible. The focus is placed on projects that will make a real difference in the lives of ordinary people. We also place a huge focus on the sustainability of the project – we want the charity organisation to be able to take the project to the next level once we're off site.
Unfortunately, we are not able to make donations or sponsor external projects.
Click here to read more about Staff Helping SA OUT.